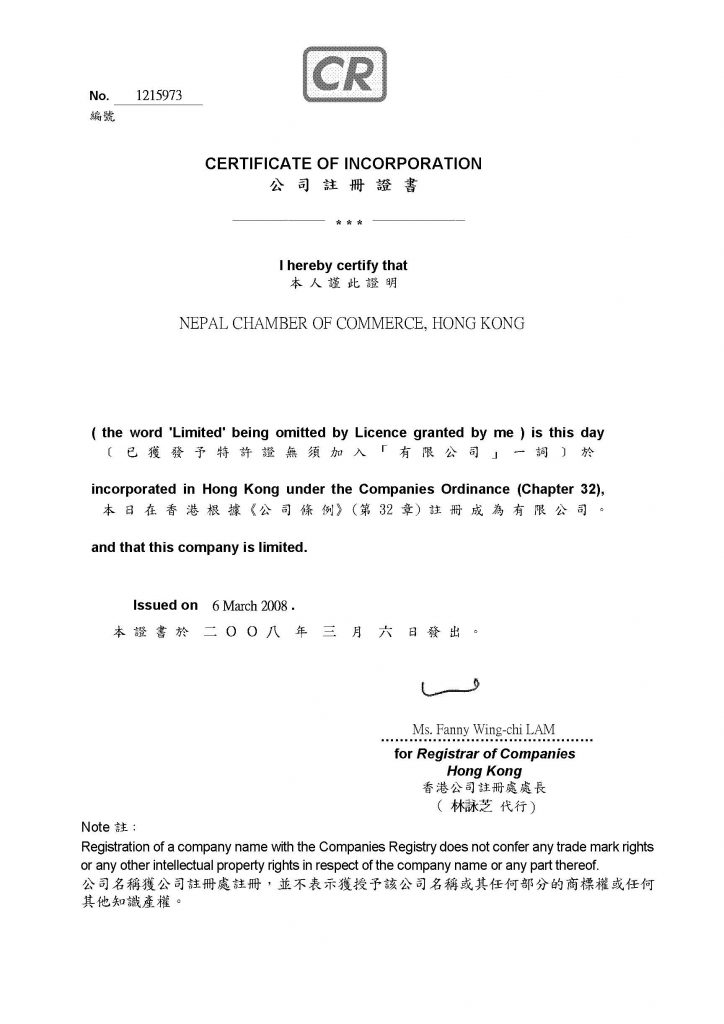 Nepal Chamber of Commerce Hong Kong is an independent non-profit organization established on 6 March 2008 in Hong Kong. It is managed by the executive committee elected by the general member convention. It enhances the professional knowledge of its members by performing various activities. It develops trade relations between Nepal, Hong Kong, mainland China, and the Asia Pacific region. The Chamber organizes various programs and activities every year to help its members develop relationships with various business institutions and organizations.
              Although the Covid-19 pandemic stopped Chamber's activities for the past few years, it has now opened up somewhat and is providing a platform for members to exchange ideas and expand their networks. The Chamber has prepared an annual schedule of activities to better inform its members in their areas of interest and to provide them with opportunities to meet other businesspeople and promote their businesses. Chamber activities include seminars, meetings, workshops, and promotions. and trade fairs.
A. Trade Representative Organization
The purpose of the Chamber is to represent and promote the interests of Nepali businesses. It will enhance the relationship of its members with key policy institutions, the Hong Kong government, and with the Government of Nepal.
B. Business Development Opportunities
On average, the Chamber conducts a business activity every two months in which its members have opportunities to find potential customers, and meet suppliers. negotiate new contracts, and develop business opportunities.
C. Increase Professional Knowledge
The Chamber organizes regular seminars, workshops, and professional development talks that help its members meet peers and increase knowledge in related areas of interest.
D. Benefits to Executive Committee Members
The Chamber Executive Committee takes business engagement to a new level with key decision makers and business leaders. All members of the Executive Committee Members can participate in this discussion.
E. Low Participation Fee
The Chamber organizes small business seminars to large business exhibitions. Members of the Chamber participating in it are charged a lower participation fee than non-members.
F. Professional Service Fee
The Chamber offers a variety of professional services to its network members. Member companies will be able to access this service at less than public charges when consuming commercial services.
G. Name in the International Market
The Chamber sometimes organizes international trade promotion events at a large cost. Member organizations will be able to participate in this, through which your company can earn a name in the international market