Gettogether with Suresh Adhikari
15 Dec 2022,
Tourism and Civil Aviation Secretary of the Government of Nepal Suresh Adhikari meet in orientation program about the arrangements for tourism promotion in Nepal. The program is organized by NRNAHK and Consulate General of Nepal.
14 Dec 2022, Participated on opening ceremony of Nepalese Shop "Himalaya Craft Limited at Tshim Sha Tsui, Kowloon.
Gettogether with Restaurant Inerpreneur
6 Dec 2022,
On the invitation of Basmati Restaurant,  in San Toi Building, 137~139 Connaught Road Central, Hong Kong, all the restaurant business interpreneur are gettogether.
Condolence Late. Hom Bahadur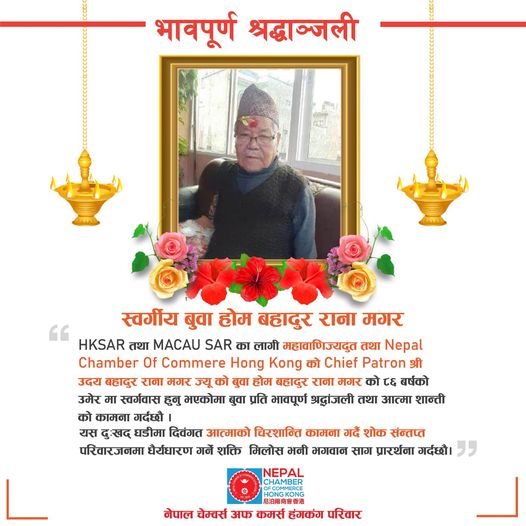 Late Home Bahadur Rama Magar
23 Nov 2022,
Heartfelt condolences for the late of Hom Bahadur Rana Magar, the father of the consulate general of for HKSAR and Macau and the Chief Patron of Nepal Chamber of Commerce Hong Kong Mr. Uday Bahadur Rana Magar.
At this sad time, we pray to God to grant the bereaved family the strength to be patient and the peace of the departed soul.
Nepal Chamber of Commece Hong Kong
23 Oct 2022, Participated on condolence program of Mr. Kisan Rai
3 Aug 2022
A huge congratualtion to our member "Blue Star Express Limited" (sister company of Gurkha Store), for being appointed as the cargo agent (CSA) for the Nepal Airlines Corporation Hong Kong.
On 15 Jun 2022, & 13 Oct 2022, meeting was held with Consular General of Nepal, Mr. Udaya Bahadur Rana Magar.